This Meatball Sub on a Stick is a fun twist on the classic sandwich, great for a quick meal or a unique appetizer. Made with lean turkey meatballs, it's low in fat and tasty.
What You'll Need
To keep things extra simple, I make my meatball sub on a stick using my easy homemade turkey meatball recipe and store-bought dough from a can. Here's a round-up of what you'll need, with the full ingredient amounts found in the recipe card:
Ground Turkey: I really love the leanness of turkey meatballs for these subs on a stick. You could easily use ground beef for these if you prefer, just make sure to use the leanest beef possible. That way you won't end up with grease everywhere when you bake them.
Italian Bread Crumbs: Bread crumbs act as a binder for the meatball ingredients. I use the seasoned kind for extra flavor.
Parmesan Cheese: Use freshly grated if you can.
Herbs: I season my meatballs with a blend of dried oregano and basil, fresh or dried parsley, along with crushed red pepper, and fresh minced garlic.
Pizza Dough: This recipe is made extra easy with store-bought, ready-to-bake Pillsbury pizza dough. You can find canned pizza dough in most grocery store refrigerator aisles, and breadstick dough or crescent roll dough will also work.
Mozzarella Cheese: Shredded mozzarella for garnishing and melting.
Wooden Skewers: For assembling your deconstructed meatball subs.
Marinara Sauce: For dipping. Your favorite jarred marinara sauce will work just fine!
How to Make Meatball Sub on a Stick
While the oven is preheating to 375°F, lay parchment paper over two baking sheets. Set these aside while you prepare your meatballs: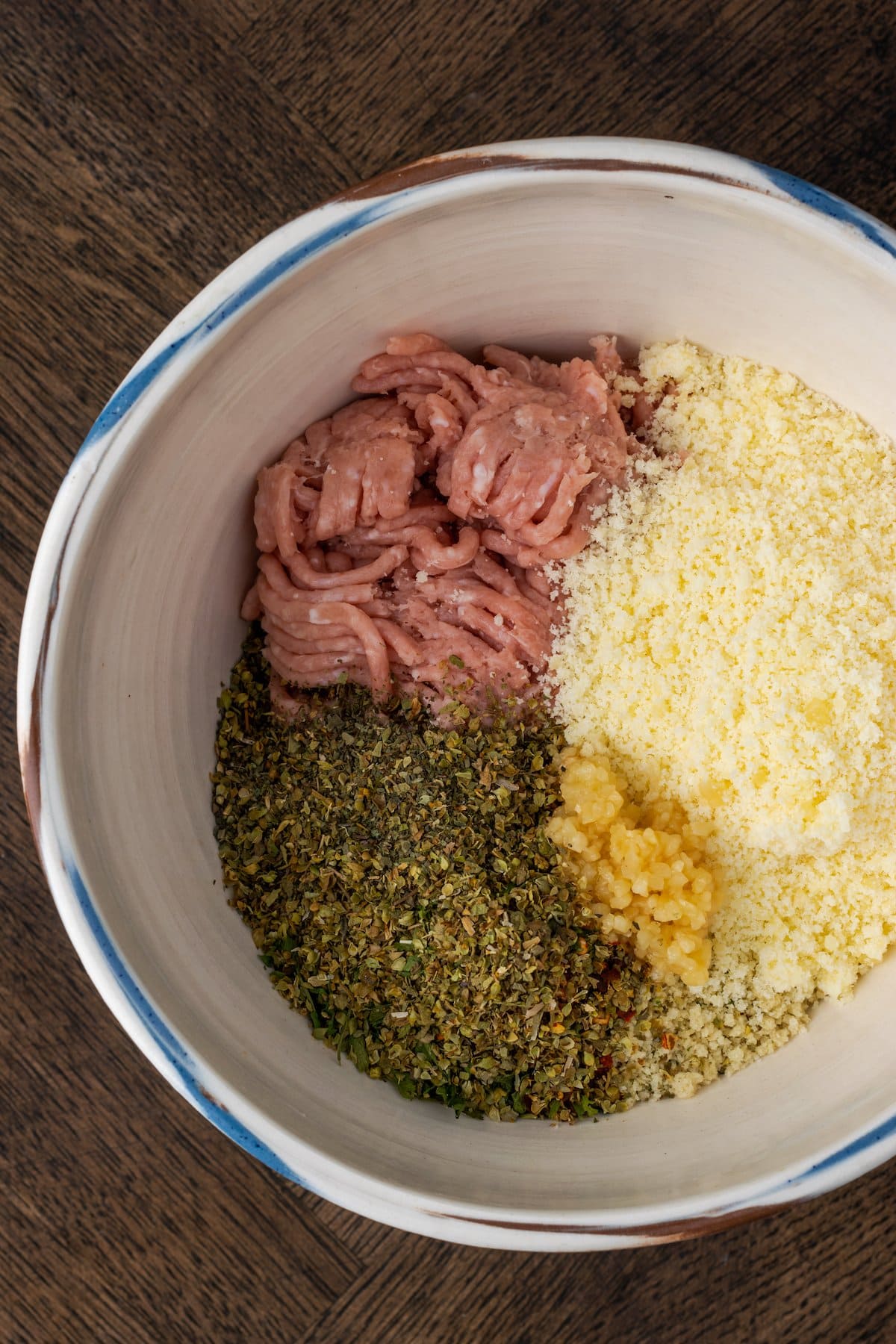 Prepare the Meatballs: Combine the ground turkey with the breadcrumbs, parmesan, and seasonings. Once well mixed, form the meatball mixture into 1-inch balls and set these aside for now.
Prepare the Breadsticks: Pop open one can of Pillsbury refrigerated dough and cut the dough into strips.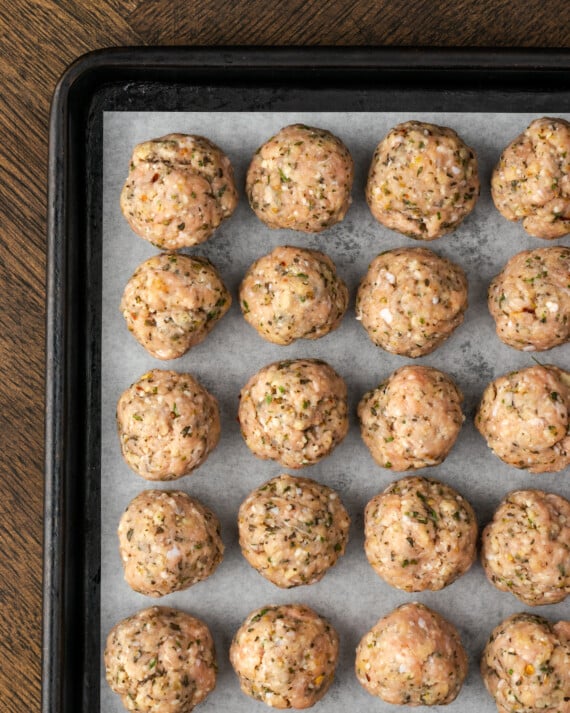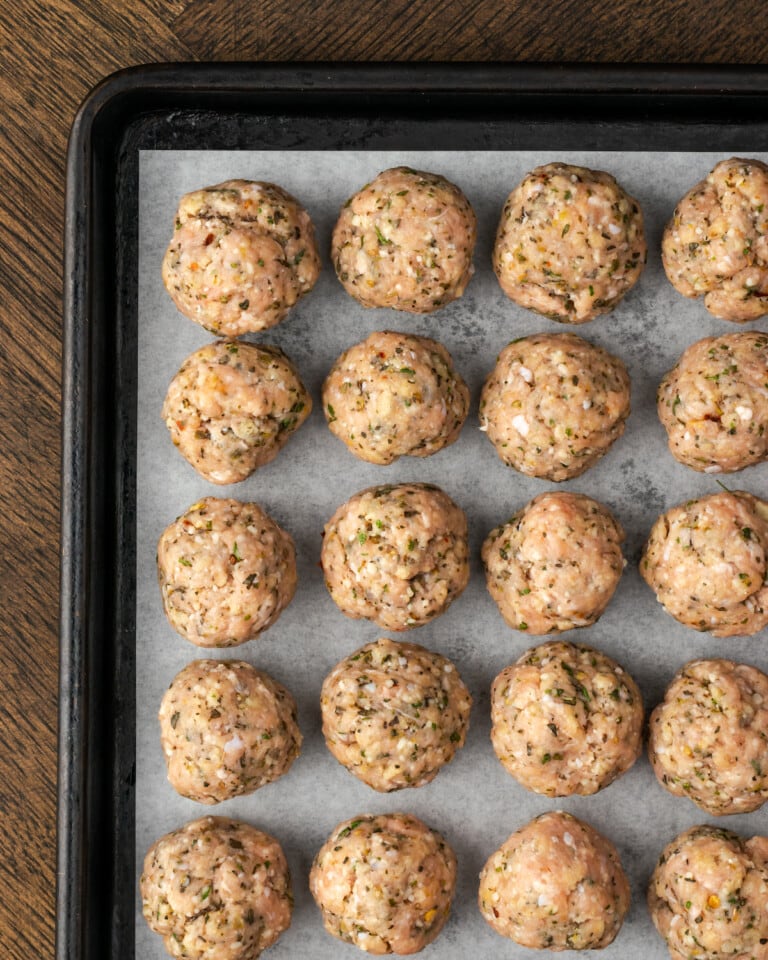 Assemble: Have your wooden skewers at the ready. Working with one breadstick at a time, weave the refrigerated dough onto the skewer, alternating with a meatball threaded in between. This recipe should yield enough for 3 meatballs per skewer. Make sure to spread the meatballs out a bit so they aren't smushed together. This helps the meatballs cook through and gives the dough a little wiggle room.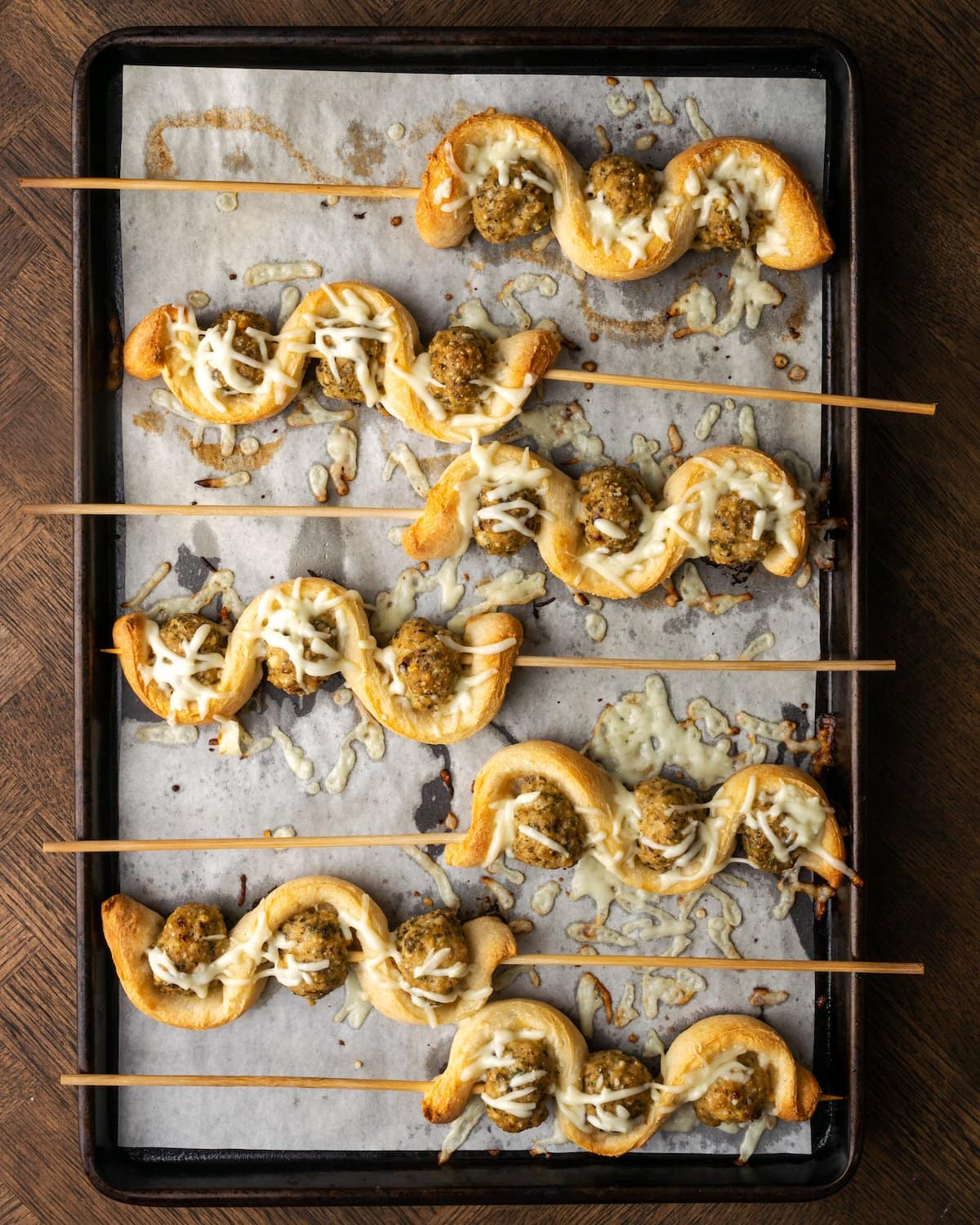 Bake: Transfer your assembled skewers onto the prepared baking sheet. Bake in the oven for about 20 minutes, or until the meatballs are cooked through. Finally, give the cooked subs a sprinkle of mozzarella and then return them to the oven for another couple of minutes to melt the cheese.
Serve: Serve your meatball sub on a stick warm from the oven with a side of tangy marinara for dipping! Or, check out more easy serving suggestions later on in the post.
Tips for Success
A meatball sub on a stick is hard to fail! Here are some tips to ensure yours come out perfectly:
Roll Same-Sized Meatballs: Make sure your meatballs are uniform in size, otherwise they won't bake so evenly. An easy trick is to use a small ice cream scoop to portion out even-sized meatballs.
To Avoid Tough, Chewy Meatballs: Be careful to not pack the turkey meat too tightly when portioning out your meatballs. Also, rub some oil onto your hands if you find your hands are sticking to the meat mixture.
Don't Overcook: Overbaking will lead to dry meatballs and tough breadsticks. The baked meatballs should be browned and cooked through, and the bread golden. If you're not sure, check the meatballs for doneness using a kitchen thermometer – the middle of the meatball should read in at 165°F.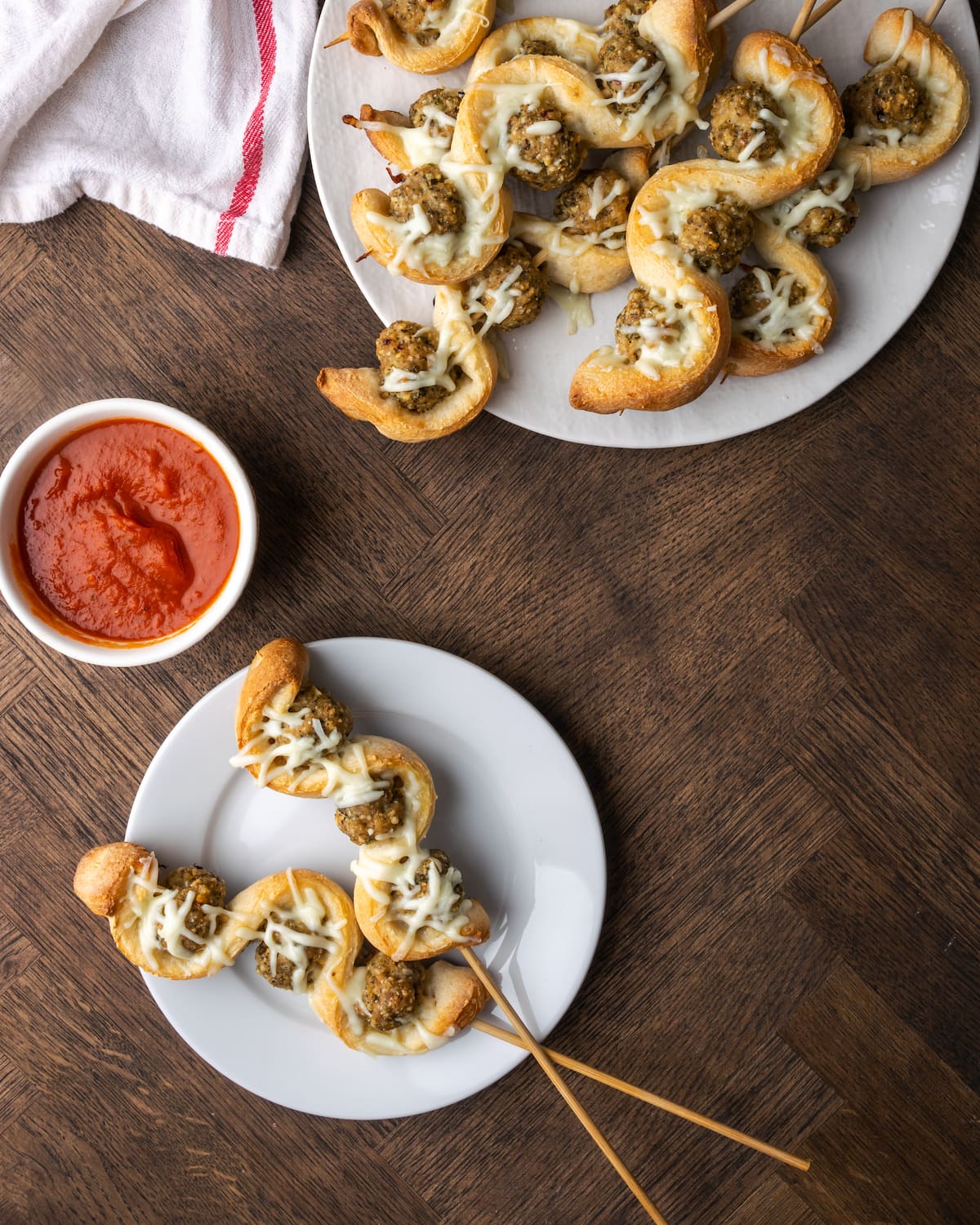 Variation Ideas
You can enjoy your meatball sub on a stick just as it is, or try one or more of these easy variations:
Stuffed Meatballs: Craving something extra cheesy? Make these meatball subs with Slow Cooker Ricotta Stuffed Meatballs.
Spicy Meatballs: Try using Easy Chipotle Meatballs for a nice, zingy kick.
Breakfast Idea: Use my Breakfast Meatballs recipe and use cheddar cheese and crescent roll dough instead of pizza dough!
Frozen Meatballs: If you're pressed for time and in need of a quick-sticks party appetizer, use frozen meatballs! Defrost them briefly in the microwave and then assemble the recipe as usual.
Add Veggies: Skewer onion, bell pepper, or jalapeno slices in between the bread and meatballs.
Different Cheese: Instead of or in addition to mozzarella, add a sprinkle of provolone, parmesan, Asiago, grated Pepper Jack, or Monterey Jack cheese.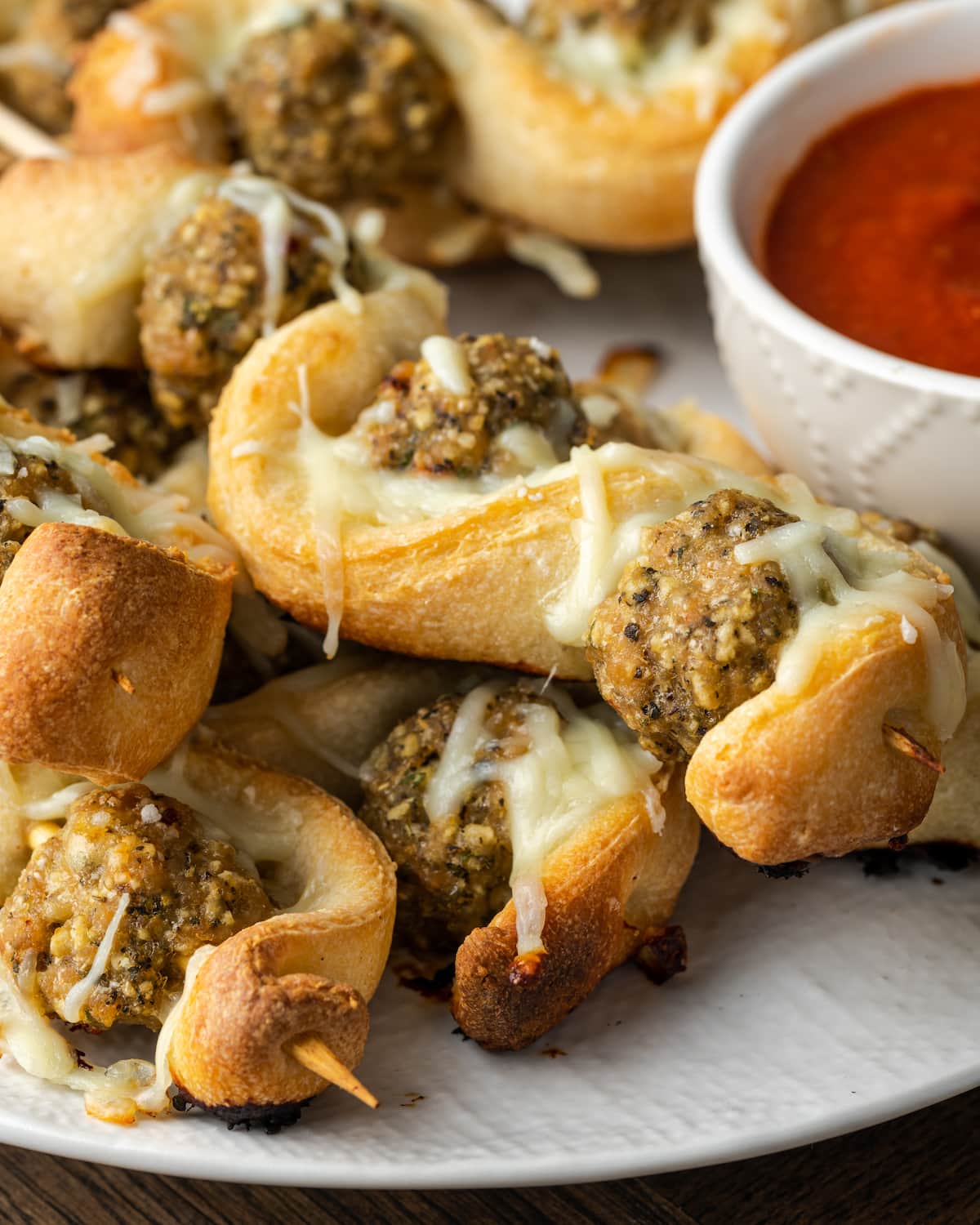 Serving Suggestions
Do you have a game day party coming up? Or maybe a casual get-together with friends? Family picnic? Neighborhood potluck? All equally perfect opportunities to enjoy a juicy, dippable meatball sub on a stick!
These make a wonderfully unique appetizer or snack alongside other finger-food favorites.
Because I'm such a fan, I also love to serve these meatball sub skewers as a light and easy dinner with a fresh garden salad, Air Fryer Asparagus, or Mediterranean Couscous Salad.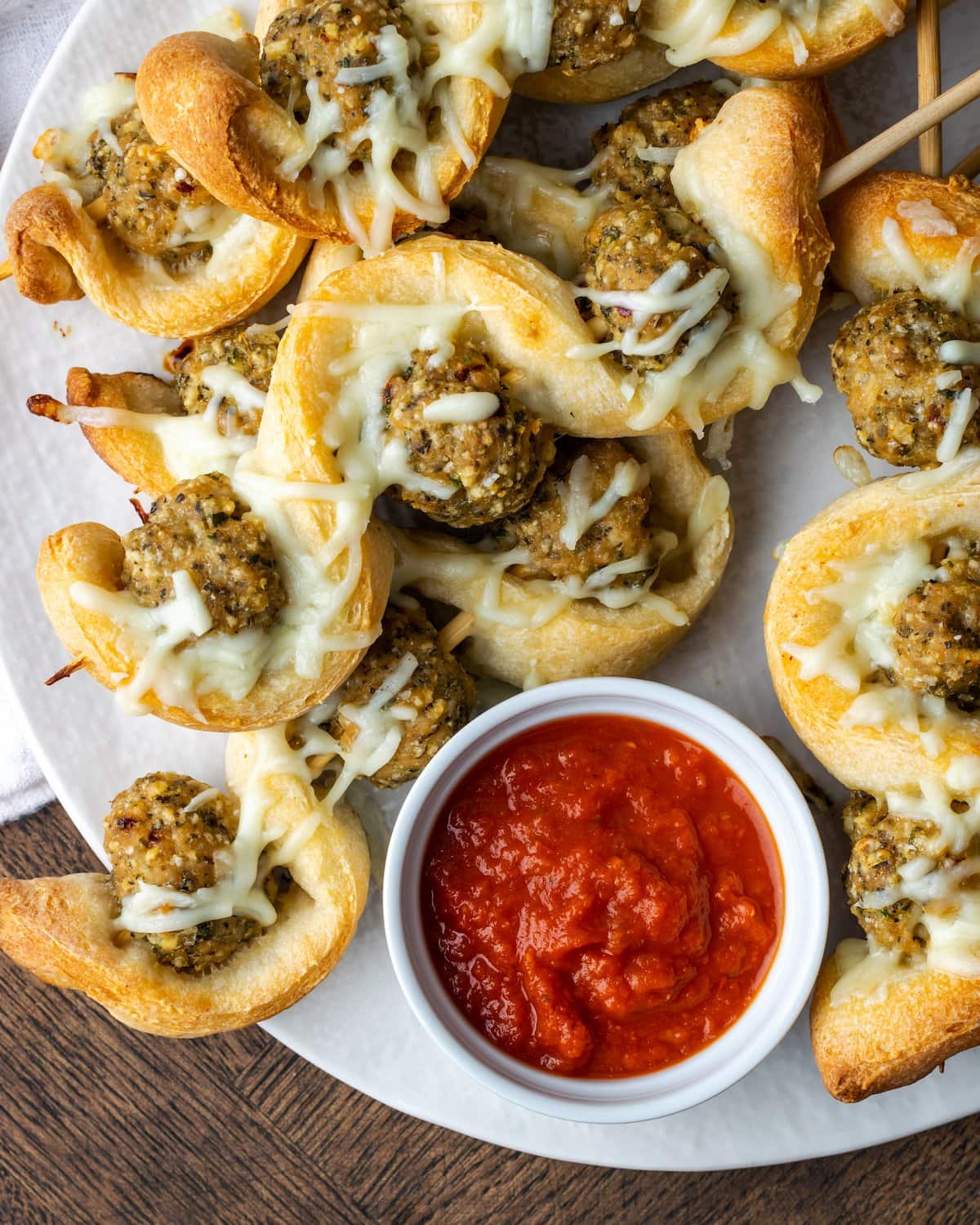 Storage and Reheating
Store any leftover meatball subs on a stick airtight in the fridge for up to 3 days. To reheat your skewers, place them back into the oven on a baking sheet at 350ºF until the meatballs are warmed through and the breadstick is crisped up again.
Can I Freeze These?
One more great thing about this recipe? It can be frozen before or after baking! Simply pre-freeze the meatball subs (sticks and all) on a lined baking sheet until solid, then store them in a freezer bag or container. I prefer the bag, as that way they can be sealed and stored flat. Just watch that the skewers don't pierce the plastic!
These meatball appetizers can be kept frozen for up to 3 months, ready to be thawed, and then baked or reheated.
Meatball Sub on a Stick Recipe
Prep Time: 10 minutes
Cook Time: 20 minutes
Total Time: 30 minutes
Yield: 12 skewers 1x
Category: Dinner
Method: Oven Cuisine: American
Ingredients
1 pound lean ground turkey or lean ground beef
1/2 cup Italian bread crumbs
1/2 cup grated Parmesan cheese
1 Tbsp dried Oregano
1 Tbsp dried Basil
1 Tbsp dried Parsley or 1/4 cup fresh chopped
1/2 tsp Crushed Red Pepper
2 cloves garlic, minced
1 can Pillsbury Classic Pizza Crust (or use the Original Breadstick or Crescent Roll dough)
1 cup shredded mozzarella cheese
12 (10″-12″) wooden skewers
Marinara sauce for dipping
Instructions
Preheat oven to 375°
Line 2 baking sheets with parchment paper. Set aside.
In a bowl combine ground turkey, bread crumbs, Parmesan cheese, Oregano, Basil, Parsley, red pepper flakes, and garlic. Form into 1-inch meatballs.
Open the can of dough, roll out the dough and then cut it into strips. Thread the dough onto a skewer followed by a meatball. Repeat the process with 2 more meatballs alternating dough-meatball, ending with dough. Make sure to spread the dough and meatballs away from each other by about 1/4″, so the meatballs bake through and the dough has room to expand.
Bake for 20 minutes until the meatballs are cooked through. Remove from oven and sprinkle each skewer with 1-2 Tbsp of shredded mozzarella cheese. Place back in the oven for 2-3 minutes until the cheese is melted.
Serve immediately with a warm marinara sauce for sipping.
Notes
Store airtight in the refrigerator for up to 3 days. Reheat in the microwave or oven.
Nutrition
Serving Size:
Calories: 208
Sugar: 2.6 g
Sodium: 592.7 mg
Fat: 8.1 g
Carbohydrates: 19.4 g
Protein: 14.7 g
Cholesterol: 30.4 mg